The Best Thanksgiving Sandwich

Give your oven a break by whipping up this easy sandwich from your holiday leftovers!

Makes 2 servings (sandwiches)

Adapted from Delish
Ingredients
2 tbsp. mayonnaise
2 tbsp. Dijon mustard

4 slices sourdough, toasted (or any bread on hand)

2 c. leftover turkey

1/2 leftover mashed potatoes

1/2 cup cranberry sauce

1/2 cup leftover stuffing

1/4 cup gravy, warmed

1/4 cup baby spinach, packed
Directions
In a small bowl, mix together mayo and mustard. Spread one side of two pieces of bread with Dijonnaise mixture. This is your base for both sandwiches.
Top each of the two slices of bread with 1 cup of turkey, ¼ cup of mashed potatoes, 2 tablespoons cranberry sauce, ¼ cup of stuffing, and then 2 tablespoons of gravy and spinach.
Place second pieces of bread on top to complete sandwiches. Slice in half and serve.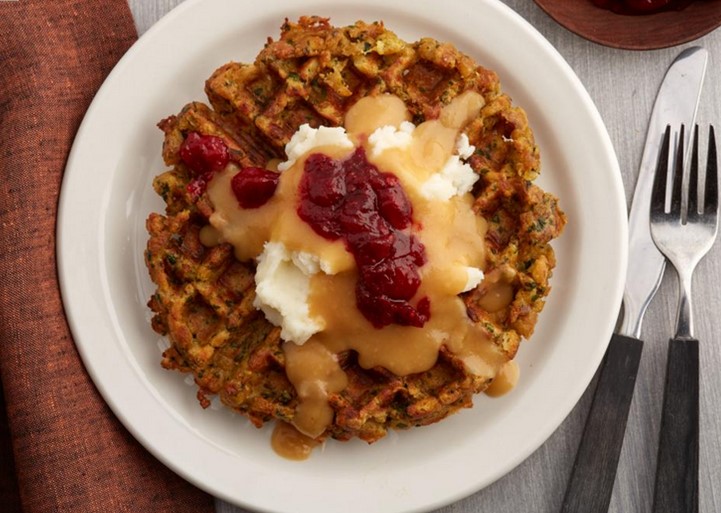 Dressing Waffles w/ Cranberry Sauce & Mashed Potatoes

Give your Thanksgiving dressing the remix it deserves!

Makes 2-4 servings

Adapted from Food Network
Ingredients
Vegetable oil, for the waffle iron
4 1/2 cups crumbled leftover stuffing
1/4 cup chopped fresh parsley
2 large eggs, beaten
2 cups leftover mashed potatoes, warm
1/2 cup leftover gravy, warm
1/4 cup leftover cranberry sauce
Directions
Preheat a waffle iron to medium high. Generously brush the top and bottom of the iron with oil.
Combine the stuffing, parsley and eggs in a medium bowl.
Evenly and firmly pack the waffle iron with some of the stuffing mixture. Close the iron and cook until the waffle is golden and can be lifted out easily, 4 to 6 minutes. Repeat with the remaining stuffing mixture.
Transfer each waffle to a plate, top with a scoop of mashed potatoes and then cover with gravy; finish with a dollop of cranberry sauce.
Optional: Include a side portion of leftover shredded turkey for a protein boost!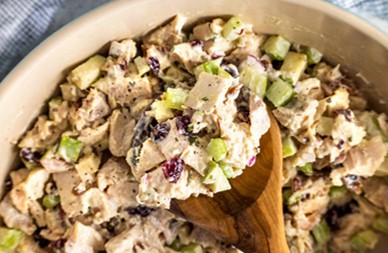 Leftover Thanksgiving Salad

Lighten up your leftovers with a delish salad!

Makes 4 servings

Adapted from All Recipes

Ingredients
1 cup shredded cooked turkey
½ cup cubed cooked ham
½ cup sweetened dried cranberries, chopped (or cranberry sauce)

1 hard-cooked egg, diced
2 tablespoons chopped fresh basil leaves
¼ cup light mayonnaise
salt and ground black pepper to taste
Directions
Combine the turkey, ham, cranberries, egg, and basil in a mixing bowl.
Stir in the mayonnaise.
Season to taste with salt and pepper.